AG Adjustable Hunter Rifle Stock Review
---
Common with other hunters, I have a strong passion for hunting in the mountains out West…. especially with a rifle capable of distance. I have had the opportunity to build several rifles over the years, but the majority were built to handle the demands of South Texas hunting. With an upcoming Northern Colorado mule deer hunt, I sat down to ponder what I went through the previous year hunting in the same location. An elevation of 10,00 feet above sea level, vertical terrain that seemed to never let go, temperatures that resided in the 20's and 30's, a 3 day snowstorm that put 18 inches of snow on the ground the first day, a pack on my back filled with the necessary hunting and survival gear and to add to the physical strain a rifle rig that weighed 15 ¼ pounds. At nearly 50 years of age, I figured it was time to hunt smarter, not harder.
Due to the nature of my job, I have the opportunity to handle a lot of firearms and study the advancement of the rifle cartridge. I have always been a fan of the 7mm class of cartridges and I decided to build a weight conscious "reach out and say hello" rifle. One that would handle the caliber and accuracy demands of western big game hunting with manageable recoil and the forgiveness to hide mistakes when shooting with an elevated heart rate on uneven surfaces. The choice of caliber was clear. I was going to build a 28 Nosler that would launch a 180-grain bullet with a ballistic coefficient of wind defying capabilities. After the build was complete with optics, I wanted a rifle that would land in the 10 to 12-pound zone with its furniture. It was time to start assembling components.
Over the past few years, there has been a big surge in the carbon fiber rifle market. It makes sense, lighter is easier to carry. But can it give you the accuracy that you need in a pinch with distance? Let's not kid ourselves, there is a reason why competitive rifle shooters in the Precision Rifle Series carry rifles in the 20-pound range. They allow you to see hits, reduce recoil and most of all when paired with a quality trigger they hide mistakes. I can't emphasize this enough. If you are considering a new build, pick the highest quality components that you can afford. If you want to be successful with your rifle, there is no short cut here.
The Platform – AG Adjustable Hunter Carbon Fiber Stock
I am left-handed, my plague in the gun industry. I have a safe full of quality stocks all of which I ordered and patiently watched my clothes go out of style while I was waiting for them to arrive. I could not afford the wait as I threw my man card at this project and started way too late. I had heard some positive things about AG Composites carbon fiber stocks, so I decided to look at their line. I liked the specs of two of their stocks and I decided to call and get some information.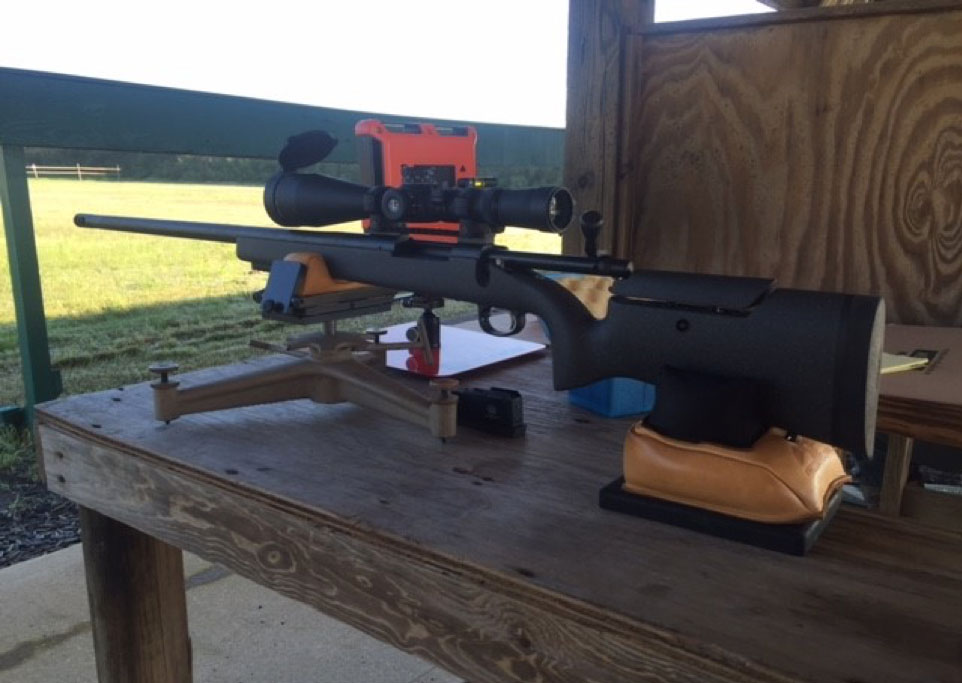 When I called, a gentleman named Matt Tandy answered the phone. I gave him the details of my dilemma and I told him I really liked the look of the Alpine Hunter stock. I asked him if I could get a lefty and how quick it would be available. His answer nearly knocked me out of my chair. He stated that AG Composites had been working on a new prototype similar to the Alpine Hunter and that they had added an elevatable cheek piece. The stock would have an average weight of 38 ounces, a 1" Pachmayr pad and would retail at $699. Even better, he further stated that I could receive the stock in 2 ½ weeks!!!!!! I couldn't email him my shipping address quick enough. Furthermore, he helped me make decisions on inlet sizing, bottom metal and sling stud placement.
Obtaining the components of the rifle was starting to come together and true to Matt Tandy's word, in 2 ½ weeks the big brown truck showed up at my door and delivered the stock.
The Build – Aaron Roberts, Roberts Precision Rifles
Once the rifle parts were obtained, I sought the help of Aaron Roberts of Roberts Precision Rifles located in Spring, Texas. Aaron is a well respected riflesmith in the South Texas area. Aaron's professional shooting background began when he was in the U.S. Special Operations Command, assigned to the 75th Ranger Regiment and later the 10th Mountain Division's Long Range Surveillance Detachment. After leaving military service he became a Texas State Trooper and was later hired to become a lead staff firearms and tactics instructor at the world-renowned Blackwater Training Center. He is known for building quality bolt rifles in all disciplines with integrity and reasonable completion times.
I scheduled an appointment with Aaron and we met to discuss the build. He walked me through accurizing the Remington 700 Action, adding a Sako extractor to the build for increased reliability, bedding of the action, the available choices of muzzle brakes to optimize the shootability of the rifle for hunting purposes and coating the exposed components. Our goal was to build a rifle with clean lines, manage weight with components and pull every bit of accuracy that we could out of a rifle in the 10 to 12-pound range. As Aaron progressed through the build, the following pictures were taken with the addition of the bedding and Sako extractor.
This was the first AG Composite stock that Aaron had a chance to work with. He was impressed with the quality of the stock. One factor that he was very impressed with was the timely manner in which it was received, and he was impressed with the inlet. After he bedded the action, the stock was a perfect fit. We were both in agreement. It was a stock that consisted of clean lines, a durable finish and quality KMW hardware.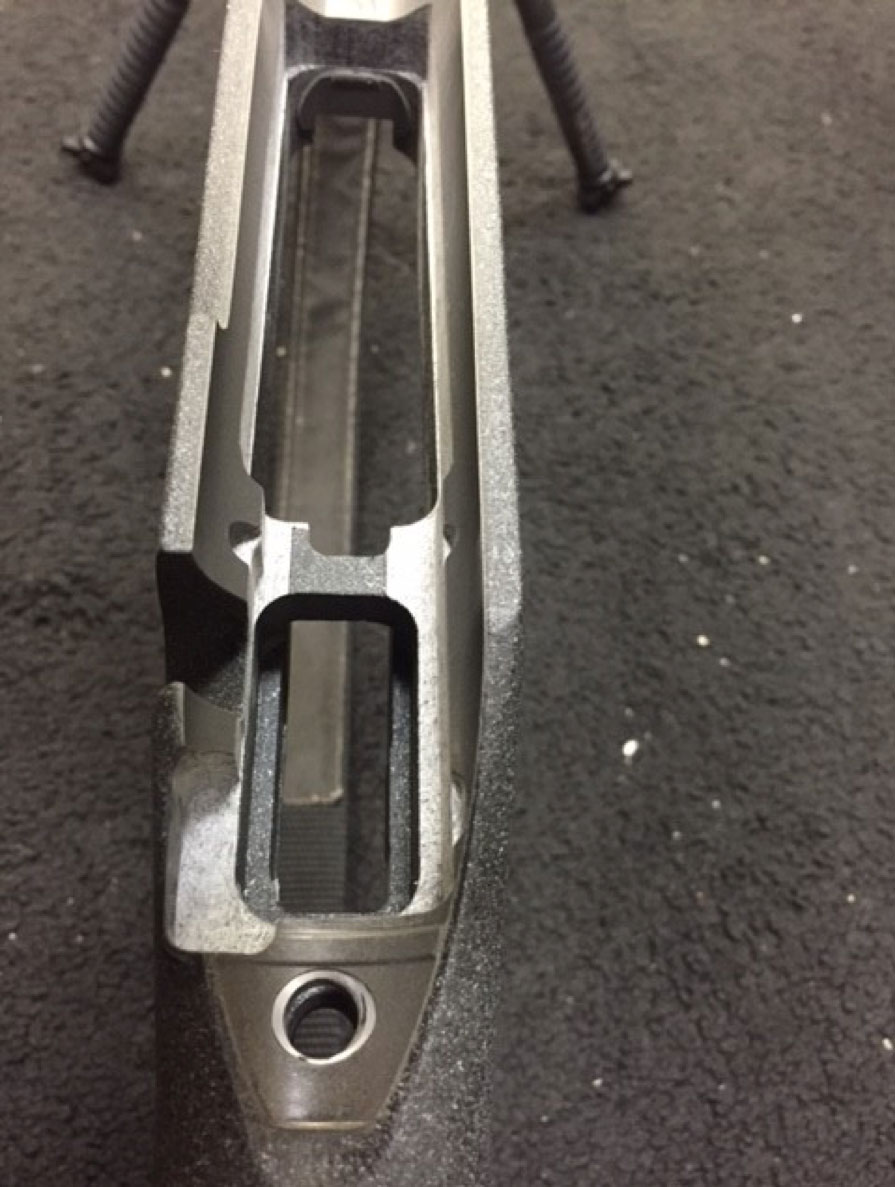 Action Bedding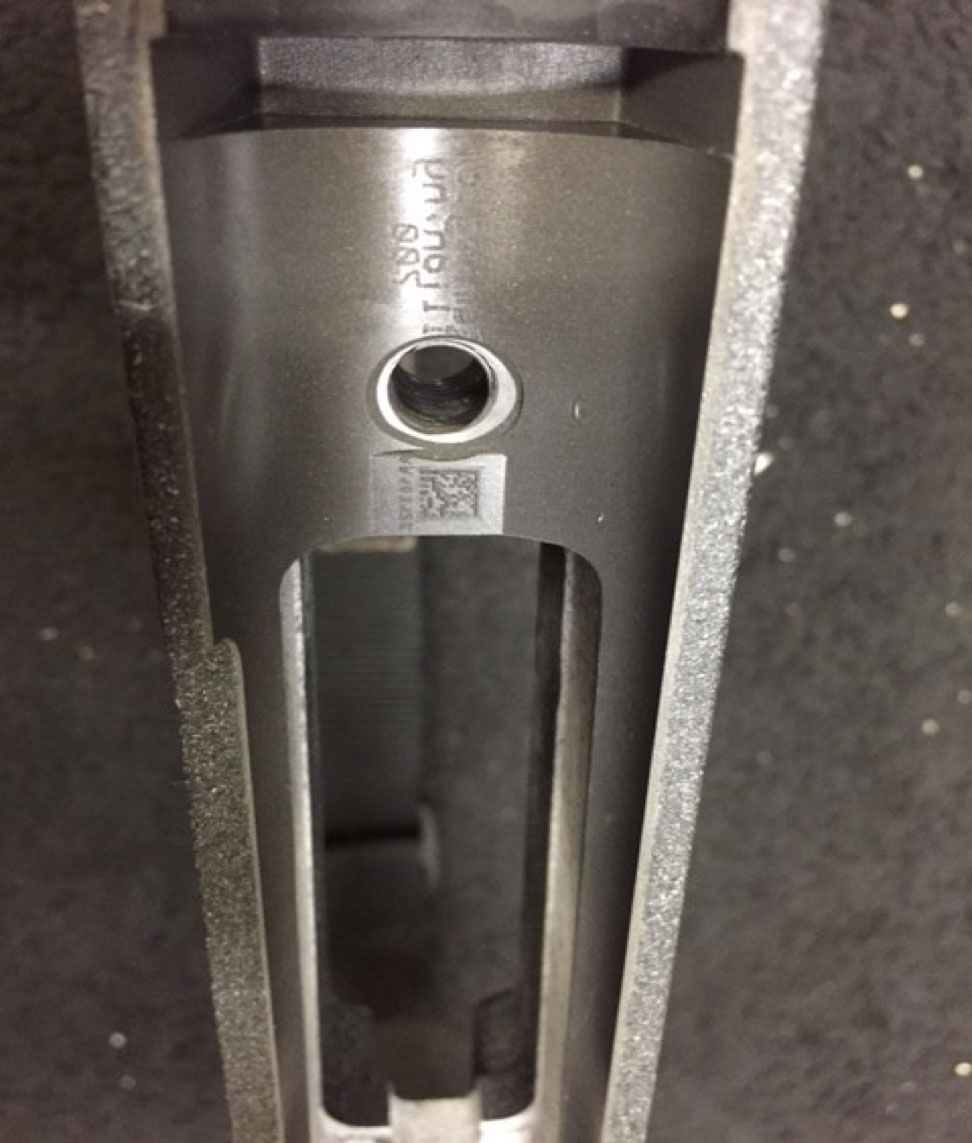 Action Bedding - Lug Recess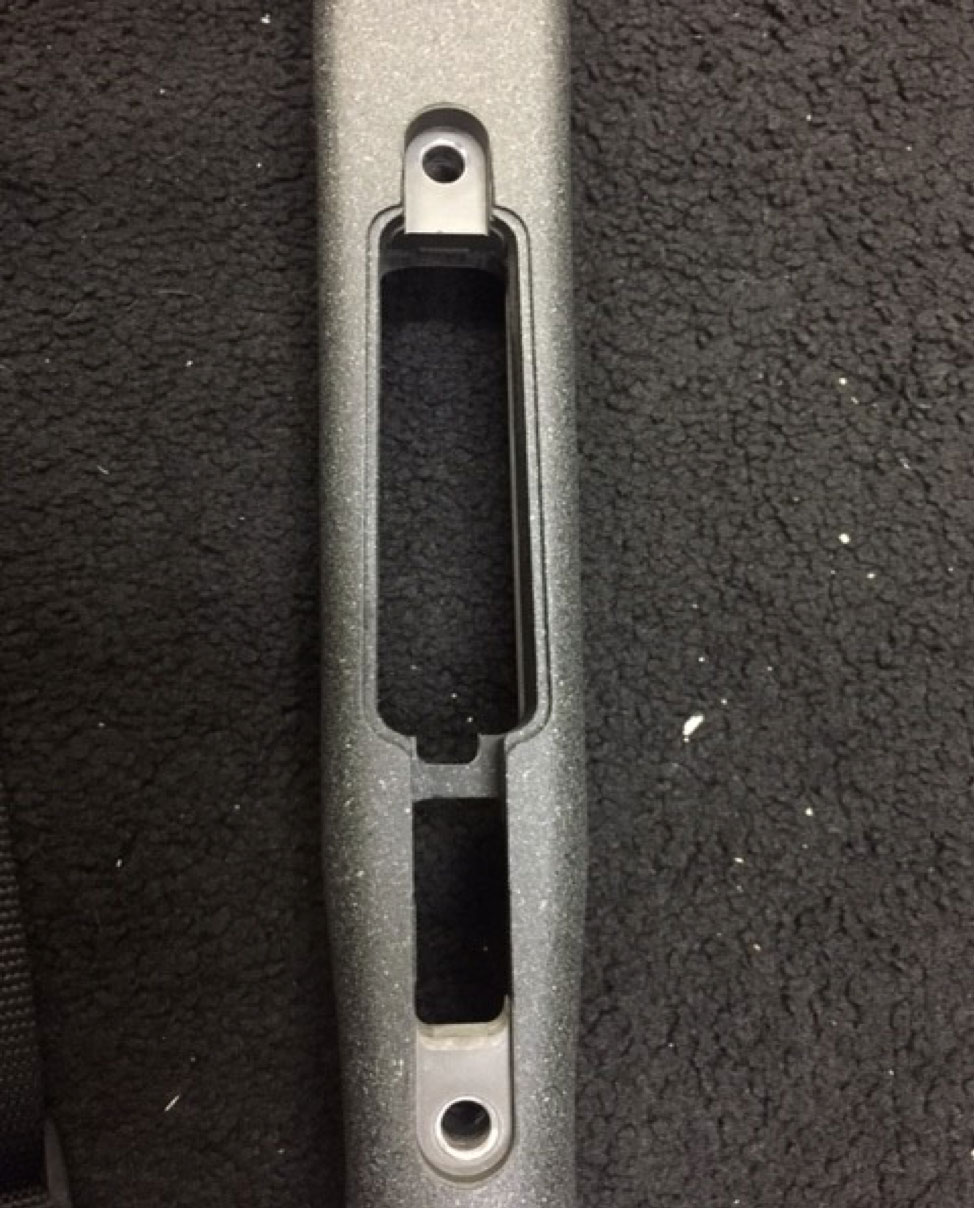 Bottom Metal Prep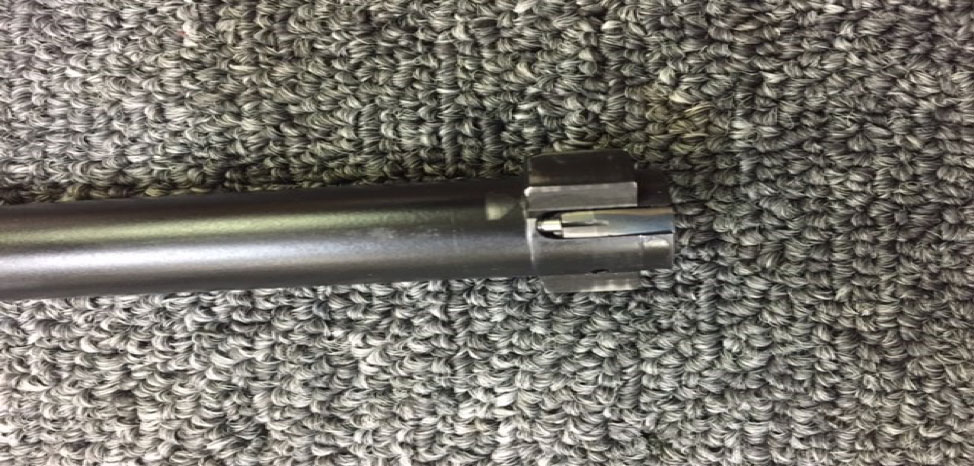 Sako Extractor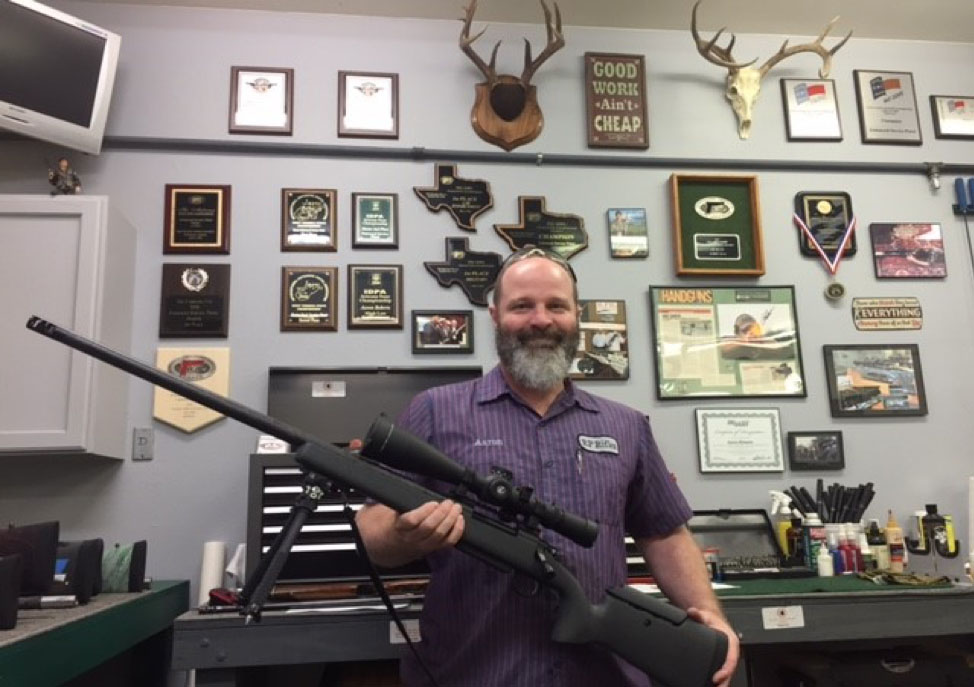 Aaron Roberts - Roberts Precision Rifles
Optic Selection - Leupold Mark 8 3.5-25x26, TMR reticle
Once the rifle was completed, it was weighed and it came in at approximately 8 pounds. I chose a Leupold Mark 8 rifle scope with a Mark 4 base and rings. The scope weighs 32.5 ounces and with an Atlas bipod, Flatline Ops level with cosine indicator and sling the gun came in just over 12 pounds. I felt it was the ideal weight I was looking for.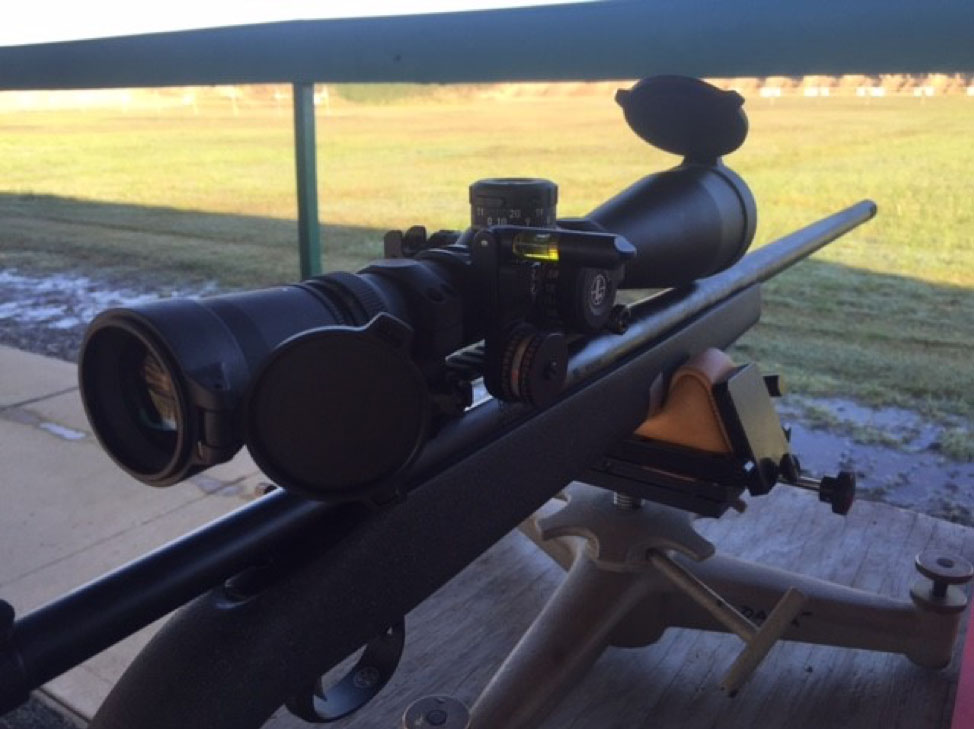 Load Development - Adam Busse, Gunware
This was my first attempt at loading for the 28 Nosler and time was limited. I sought the help of Adam Busse of Gunware in Farmington, Missouri. Adam has an extensive knowledge of the 28 Nosler cartridge. He also builds some of the finest rifles in the custom industry. Like Aaron Roberts, his machining quality is second to none. Adam walked me through powder selection to optimize the performance of the 180 grain Berger VLD along with bushing selection for proper brass sizing. Powder choices consisted of H1000 and Retumbo. After measuring the cartridge OAL dimensions with the Berger bullet, I ran some comparisons on performance with QuickLoad ballistic software. H1000 showed to have better ballistic efficiency although Retumbo would generate about 60-70 FPS more velocity. I had 8 pounds of H1000 on hand, so I chose that as my initial powder selection.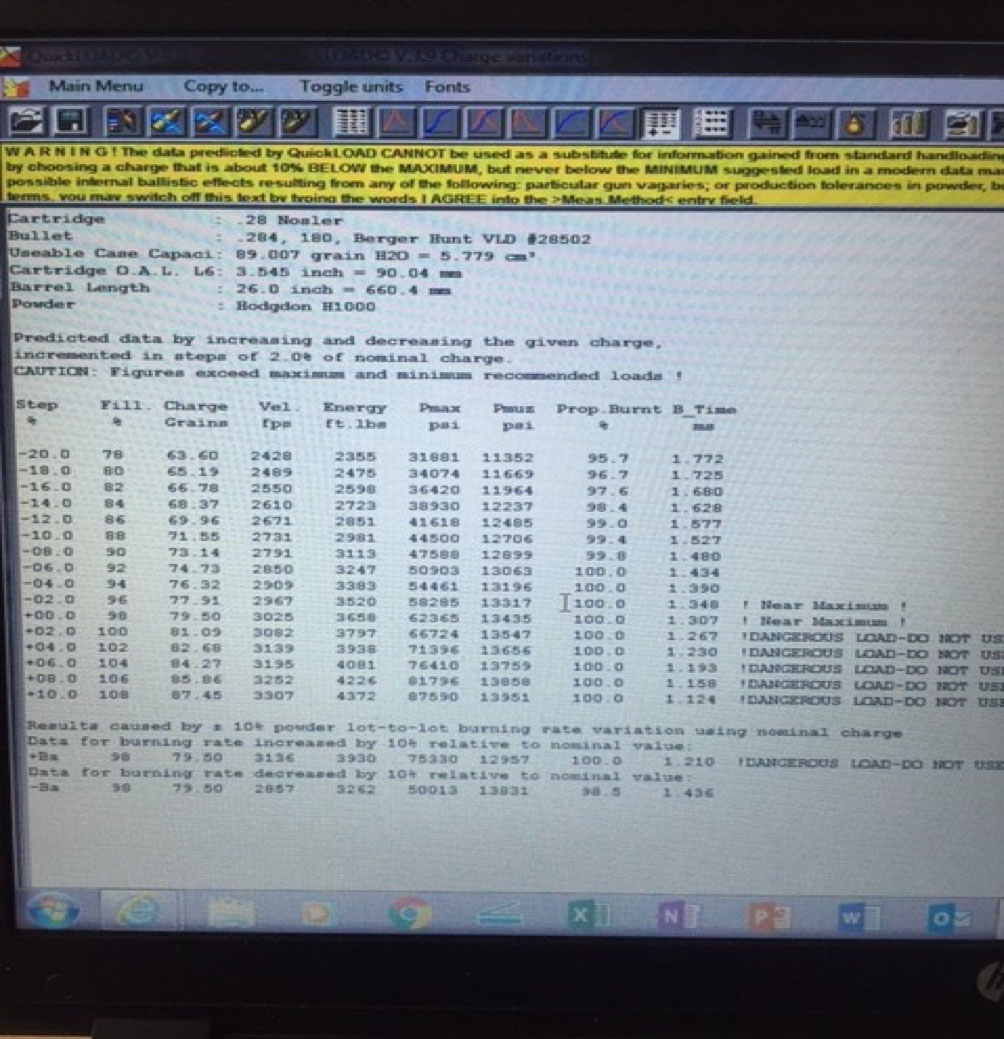 Adam's recommendation on powder charges nailed the numbers and the accuracy results were impressive. Once the seating depth was obtained, the gun shot consistent groups in the 2's.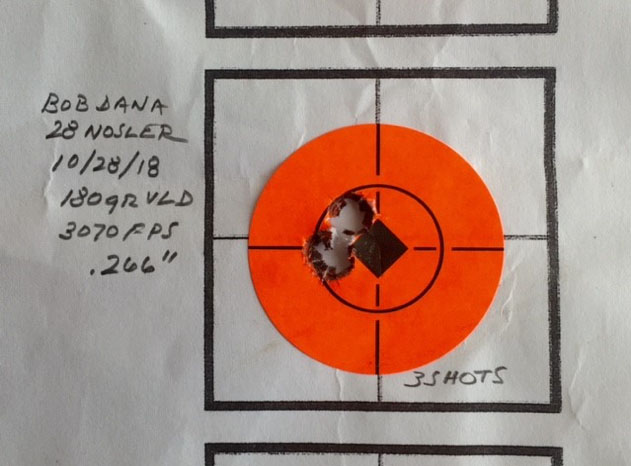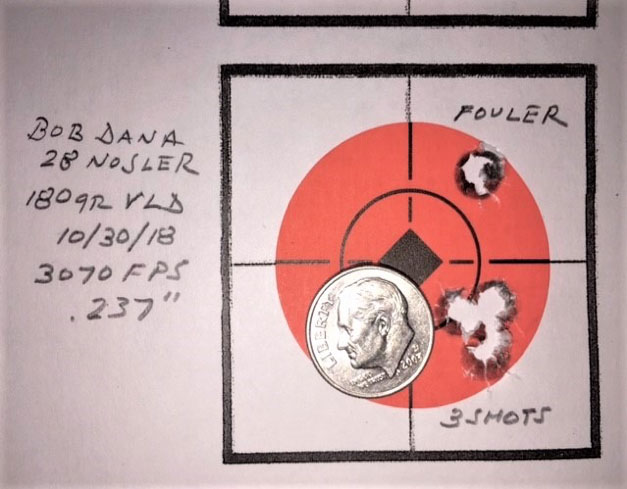 The Hunt - Northwestern Colorado Mule Deer
I was very excited to have the opportunity to use the rifle on my hunt. I was accompanied by two of my friends that also had deer tags. The evening before the hunt we packed a spike camp into the mountains. The Colorado weather held true to form. On the first morning of the hunt, we woke up to 6 inches of snow, limited visibility and 15-20 mph winds. In the evening, we located deer and the other two hunters harvested deer prior to dark down in a canyon below our camp. Due to the weather and darkness, we chose to pack the deer out the following day. After a grueling climb back out of the canyon, we still had a several miles to cover to get back to the truck. We were exhausted from the conditions and heavy packs.
As we came down the mountain and crossed a long flat, we located a buck bedded on the ridge across from us.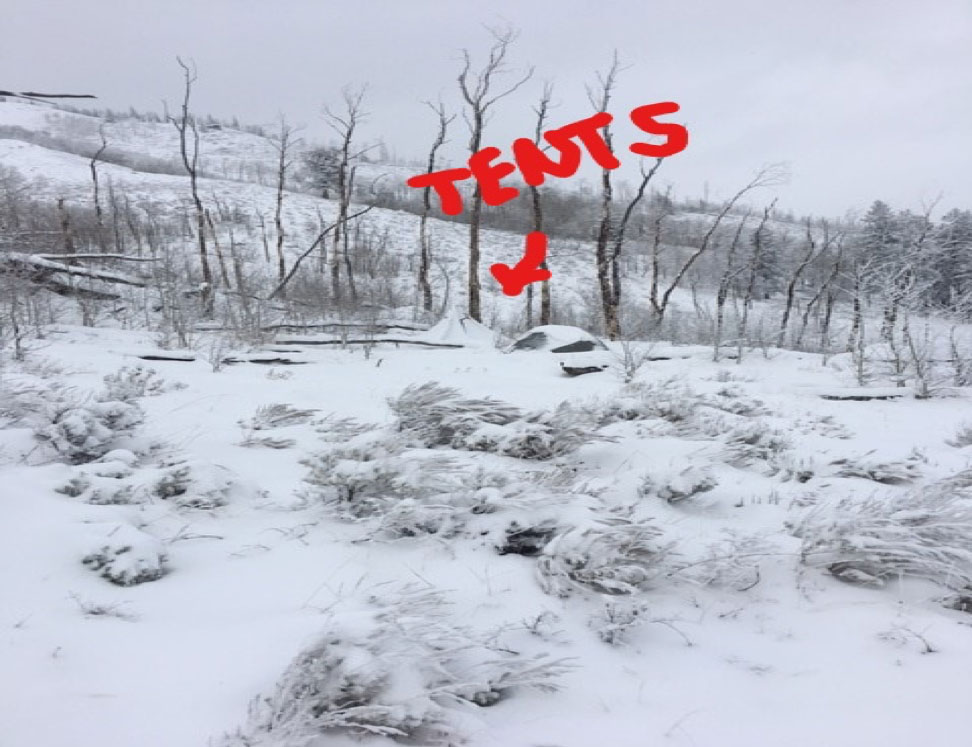 Spike Camp - First Morning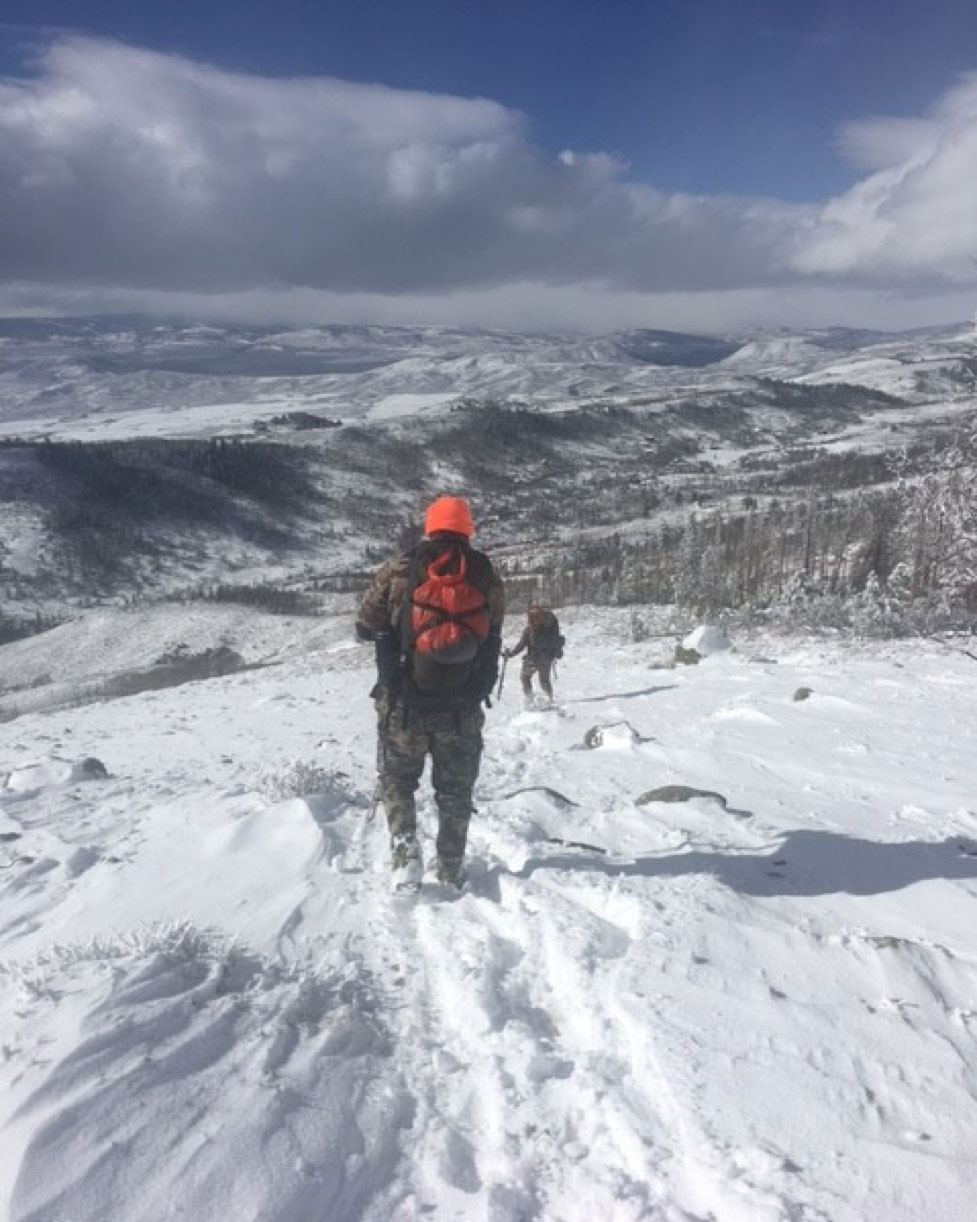 Packing the First Two Deer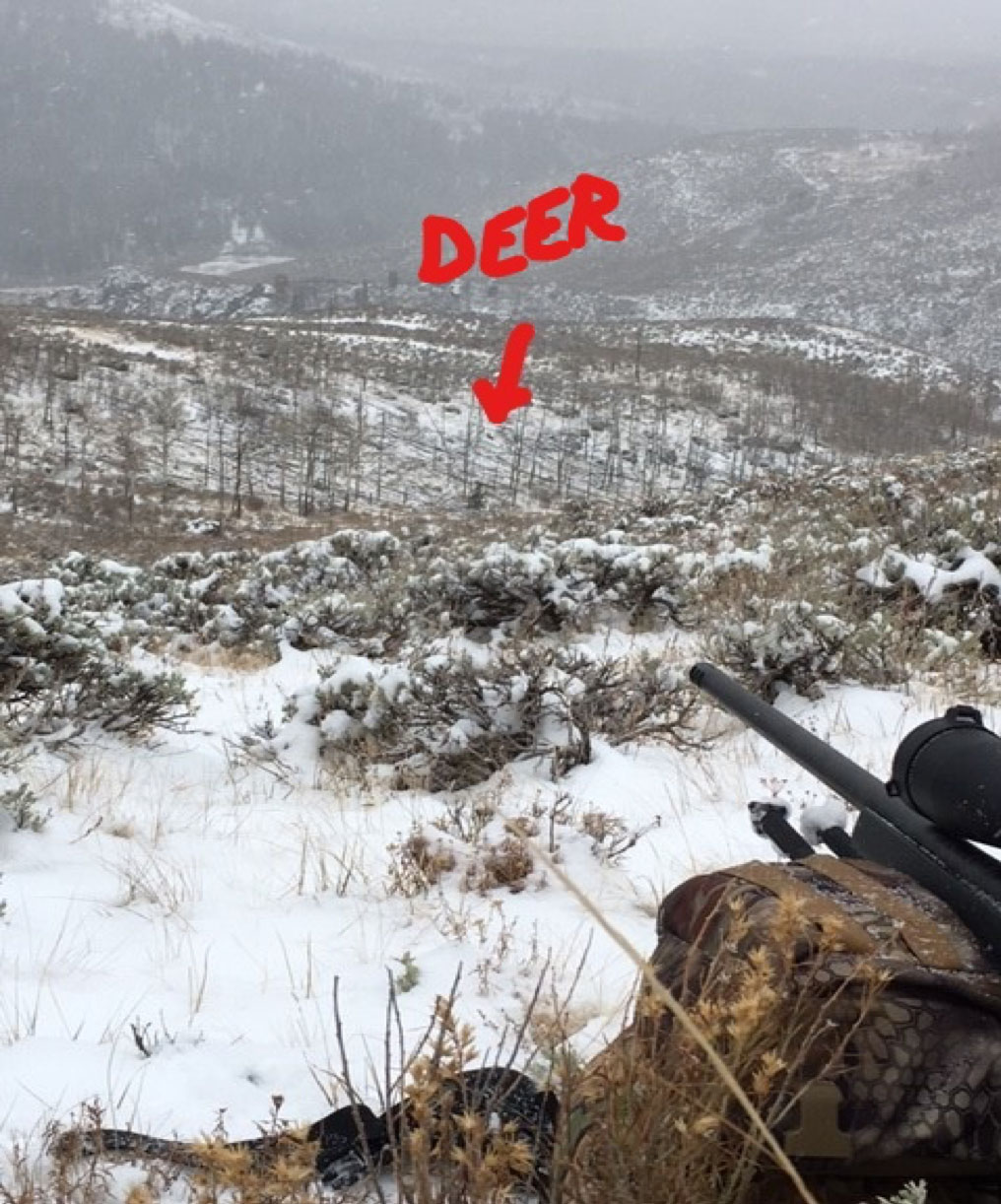 Preparing for the Shot
We set up for the possibility of a shot. The deer ranged at 300 yards. After confirming ballistics with a 7 mph headwind, I attempted to get a good hold on the buck. His entire left shoulder and vitals were exposed with the direction he was lying. I chose to send the round. The Berger VLD did its job and the deer never left its bed.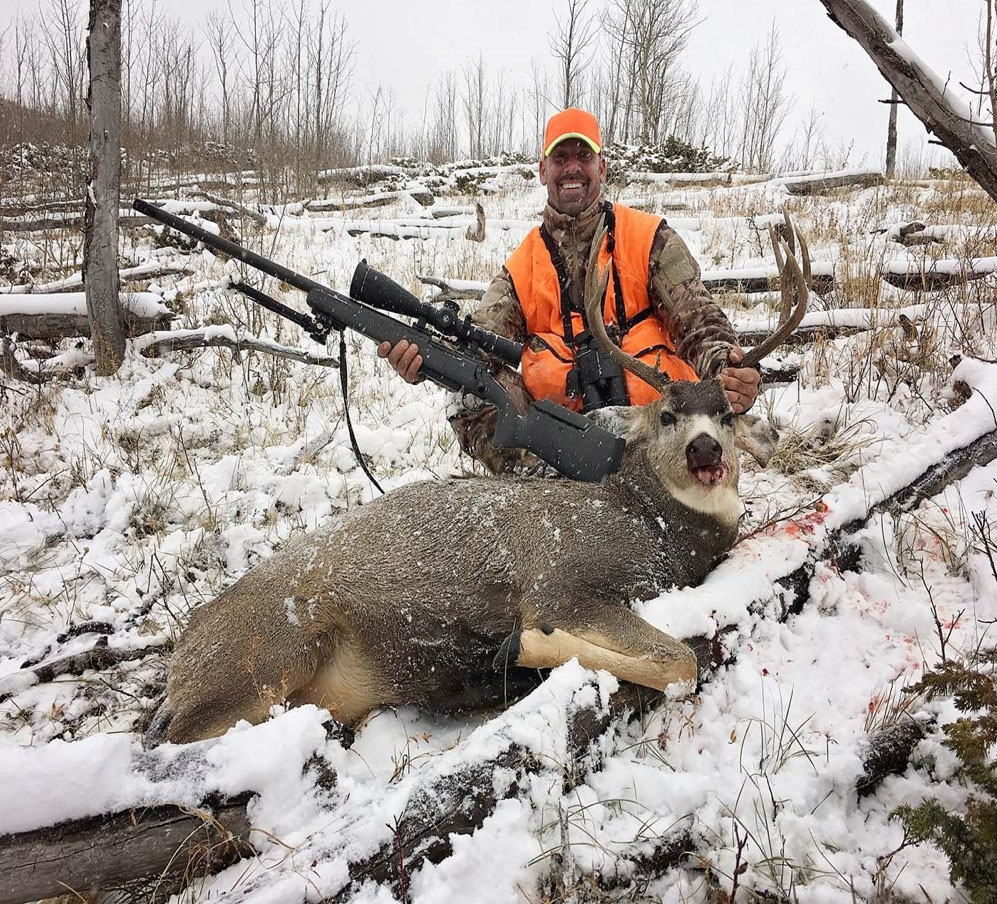 28 Nosler - AG Adjustable Hunter Carbon Fiber Stock
In conclusion, I can't thank everyone enough for the help that I received on this rifle build. The AG Composite stock is an excellent platform. If you choose to consider a weight conscious rifle for this type of hunting I strongly recommend considering this rifle stock. It provides a clean looking hunting rifle with the adjustability to mount a wide range of optic sizes depending on your needs. The price point is very reasonable especially for the quality of the stock and it handles poor weather conditions very well. It provides a very comfortable shooting angle for both bench and field shooting. Along with the premium stock, when working up loads for this type of rifle and sighting it in, it is my opinion that an adjustable trigger is a must. At the range the gun rode very well in the bags due to its dimensions, but to ensure that I did not impart lateral movement in groups while working up loads, I dropped the trigger pull weight down to a ½ pound. After finishing the rifle, I raised the poundage of the trigger up to a pound. With heavy trigger pull weights and lighter rifles, it is my opinion that it is very hard to stay accurate especially with magnum cartridges and with a little adrenalin added in the mix you are only asking for trouble.
If you have not taken a look at the AG Composite line of products, I recommend that you do. These stocks provide a solid platform and the configurations are very easy to work with while allowing you to choose various action inlets, barrel channels and hardware options.
Good Hunting,
Bob Dana